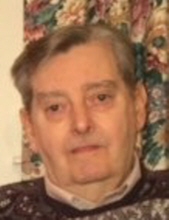 Obituary for Richard Maxwell Harris
Richard M. Harris, 80, went to be with his Heavenly Father on Thursday, May 31, 2018, at his home following a lengthy illness with diabetes. Graveside Committal Services will be held at 11 A.M., on Tuesday, June 5, at the Annetta Cemetery in Annetta. Memorials in Richard's memory may be made to the Grace First Presbyterian Church College Scholarship Fund.
Richard was born in Walters, Oklahoma on December 9, 1937 to Donald B. and Bonita Harris. Richard graduated from Eureka High School in Eureka, Kansas and went on to graduate from Texas Christian University. He spent most of his working years with the Plumbers and Steam Fitters Local No.146 from which he retired. Richard was a member of Grace Presbyterian Church in Weatherford and the Weatherford Phoenix Masonic Lodge No. 275. He enjoyed woodworking, making furniture, and built several houses. Richard and his wife Nancy enjoyed traveling. Most of all, Richard will be remembered for being a loving husband and father.
Richard is survived by his wife Nancy of 60 years and by his son, Mark.
In addition to his parents, Richard was preceded in death by his sister, Virginia Sellers.
Previous Events
Graveside
Annetta Cemetery
2836 North O'Neal Avenue, Annetta, TX 76008
Aledo, TX 76008